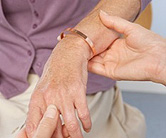 With updates, from Kenneth J. Dillon, Intriguing Anomalies: An Introduction to Scientific Detective Work. Notes, bibliography, and images can be found in the original. For a brief overview, see Ten Key Points about Medicinal Bracelets.  For his novel of discovery science, see Rosemarie (Washington, D.C.:  Scientia Press, 2021).
Chapter 4
The Science of Medicinal Bracelets
The vision inspiring the study of medicinal bracelets is of an attractive, simple, easy-to-use, safe, naturally effective kind of medicine. Investigation of medicinal bracelets can also reveal fascinating deeper patterns of the body.