Close-to-Nature Medicine
(Washington, D.C.: Scientia Press, 2003)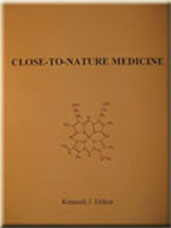 Close-to-Nature Medicine applies conceptual thinking to the tasks of analyzing the mechanisms of natural remedies and devising new therapies. It is intended for scientists, medical practitioners, and lay readers interested in photomedicine, microminerals, nutrition, and methods of contending with scientific rejectionism. Close-to-Nature Medicine includes a thorough, up-to-date description of Biophotonic Therapy in its evolutionary and physiological contexts, including such phenomena as the "phosphorescence of wounds", and it details the track record of BT as an effective treatment of disseminated viral infections that resemble HIV and smallpox. Close-to-Nature Medicine is also available in a Chinese edition.
You may also send your order with a check for $30 + $4 shipping ($10 international) payable to Scientia Press to Kenneth J. Dillon, Scientia Press, 4115 Wisconsin Avenue, N.W. #506, Washington, D.C. 20016.  Scientia Press has a 5-star, 100% Positive rating on Amazon.com.  On the delivery of Intriguing Anomalies, an Amazon.com customer commented:  "Great communication, super accommodating, and my father loved the book! thanks so much, highly recommend."
See also: